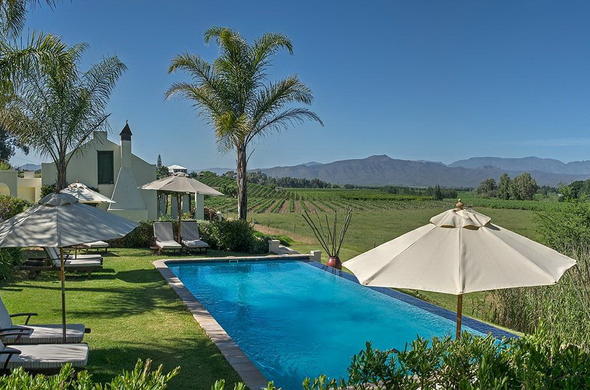 Monumental Guest Houses of the Cape Winelands - why not make your way around the Cape Winelands by staying in stately guest houses that are also national monuments. Carrie Hampton explores the possibilities and has a few tipples along the way.
When I see a grand old building with a small bronze plaque by the door announcing its
National Monument status
, I get the urge to peek inside and imbibe some of its historic past. The Cape Winelands of South Africa is positively bulging with historic houses built by its Dutch, French and English settlers, so it was not difficult to plan a tour staying solely in National Monument guest houses.I entered a world of perfectly restored Cape Dutch, Victorian and Georgian, houses, some of which had
progressed from one architectural style to another
over the years, making them quite unique to the Cape.
Centre of Wine Growing Area
When Simon van der Stel journeyed to a beautiful wooded mountainous area in 1679, (now less than 1 hour's drive from Cape Town), he liked it so much he named it after himself. Stellenbosch is now the
centre of the Cape wine growing area
and it is here that I started my quest for great wine and food in historic settings.Right in the middle of this university town, a stone's throw from the impressive neo-gothic Moeder Kerk (Mother Church first built in 1687), is an unpronounceable guest house by the name of d'Ouwe Werf. Small and inconspicuous with a
symmetrical Georgian exterior
, its reveals a deep warm interior, private sunny courtyard and palm-sheltered swimming pool.D'ouwe Werf (pronounced d'over verf) became an Inn in 1802, and it claims to be the
oldest existing guest house
in South Africa. On the original site stood a church, and like many Stellenbosch buildings that huddle together in tight thatched terraces, it burned down three times.Each fire gave it a change of face, culminating in its present orderly demeanour. Its restaurant was buzzing and
the menu unexpectedly innovative
with dishes such as fried feta with chilli fig chutney, and Karoo rack of lamb roast in cashew nut and rosemary crust with green pea and mint pesto. The wine list was no less interesting.
Over 250 Wine Estates
There are over
70 wine estates around Stellenbosch
and over 250 in the winelands as a whole. The number of tasting rooms to choose from makes the mind and palate boggle. Especially as each estate offers a choice of several reds and whites, and usually a desert wine or port. 'Overripe plums and black cherries.'I stated positively as the ruby red Delaire Merlot swam around my glass. My partner looked sceptical and accused me of reading the description, which I had not.
Practise makes perfect
, I was obviously getting the hang of this wine tasting thing.Many wine estates also offer a taste of champagne or sparkling wine. Cap Classique is
South Africa's version of French Champagne
which tastes just as good, and at £4-5 a bottle is incredible value.The French had a hand in forming the flavour and
quality of Cape wines
from as early as 1688. The puritanical Dutch had sympathy for the persecuted French Huguenots and gave them passage to the Cape.In return they were expected to perform miracles on the woeful wine of the time. By the turn of the 19th century,
Cape wine was the preferred tipple
of European heads of state. Napoleon, it is said, would drink nothing other than the sugar-sweet cape wines.
French Corner
The French settled in a
secluded mountain-ringed valley
which became known as Franschhoek (French Corner). There is only one road in and out of this valley which not every tourist bothers to explore. It retains a village atmosphere with a whiff of grandeur from imposing entrance gates of
French named wine estates
all of which are worth a visit.Names like Chamonix, Dieu Donné, Ballon Rouge and Cabrière attest to the French influence. I headed for Grande Provence, now owned by the Italian Count Augusta - whose name appears on the Provence estate's bottles. The Cape Dutch manor house has a dark weathered thatch lying atop
thick toothpaste-white plastered walls
with a central curly-edge gable giving it perfect proportions.This is the
Count's private summer residence
and he often has to shoo guests off his veranda, who have inadvertently strayed over from the slave quarters. Where slaves once slept now paying guests are accommodated in five homely rooms. The upstairs suites are the most charismatic with
wide beds under open thatch
and beams.
Angel's Tears
Grand Provence is
a working wine estate
and the guest house, pool and restaurant are all surrounded by vineyards. Neat rows of sauvignon blanc are close enough to your dinner table to reach out and pick a bunch.The sweet Angels Tears label is the hallmark of this estate,
derived from a legend
where angels came at night to taste the new vintage and wept for joy at its excellence. The coup de grace of this estate is Le Provençal restaurant. Rated by Conde Nast as one of the top 60 in the world, it really was the finest meal I have ever eaten.The self taught South African chef has
pioneered Franco Japanese cuisine
- an edible masterpiece of delicate seafood and tangy flavours. He breaks boundaries with his salmon ice cream starter or sweetened warm oysters. His cheese platter alternative desert of creamy gorgonzola ice cream proved exactly the right combination.The loin of Karoo
lamb was soft as velvet
and exquisitely tender in the mouth. 'Deconstruction Cuisine' with foamed ingredients (literally through a siphon), is next on the list of innovations at this restaurant, so when this trend hits London, remember you heard about it here first.The way to top off a visit to Franschhoek is a morning of
wine tasting on horseback
. Whether a beginner or expert, everybody feels relaxed after several glasses of wine and we giggled and jogged our way from one estate to another. The proud Anglo Arab horses transported us majestically through the valley and we ended up at Mont Rochelle
nibbling cheese and crackers
to soak up some of the alcohol.
Flawless Cape Dutch House
Good food was not in short supply on this winelands meander. Roggeland Country House in the Paarl wine area,
serves fine 4-course meals
in the rather hushed environs of their historic home.It was all a bit too quiet and civilised so I suggested that the four tables of couples, pull into the middle to form a big chattering table. It worked well and we finished with
a brandy tasting competition
at which French Cognac won convincingly over the South African, admittedly much cheaper variety.Roggeland is regarded as a
flawless example of Cape Dutch architecture
, set in a fertile valley protected by a wall of mountains which turn purple in the dying sun. The old house overlooking the vegetable garden was built circa 1693 and the larger more imposing manor house in 1779 for the 'du Toit' French Huguenot family.The outbuildings, also all thatched and whitewashed but without the impressive gables of the main houses, have been converted into
bedrooms of ample proportions
. The whole estate looks appealing and elegant.
Constantia Winelands
One family whose ancestor arrived on the first boat to the Cape in 1652, bears the Cloete name, which is synonymous with the Constantia winelands of Cape Town. Nicky Cloete runs the Alphen hotel surrounded by the
oldest vineyards in the Cape
.The Alphen's vineyards have long been sold off, which makes little difference to the visitor who may still
follow the stream up the mountain
side through lush green countryside, only 15 minutes from the city of Cape Town.The double story manor house has a somewhat severe façade, softened by unruly trees. The
hotel is full of antiques
, grandfather clocks and oil paintings. Its history positively seeps through the walls.It has an old-fashioned quality, right down to superb service from a waiter who epitomises the
qualities of an old English butler
. Contrasting with the hushed tones of the hotel is the adjoining Boer and Brit pub frequented mainly by locals.
There are so many guest houses in the Cape with a few centuries under their belt and a bronze plaque on the wall and hundreds of wine estates. I just scratched the surface and feel obliged to continue my quest to visit all the monumental guest houses that South Africa's Winelands have to offer. I may be gone sometime!
See Hotels and Guest Houses in the Cape Winelands
By Carrie Hampton