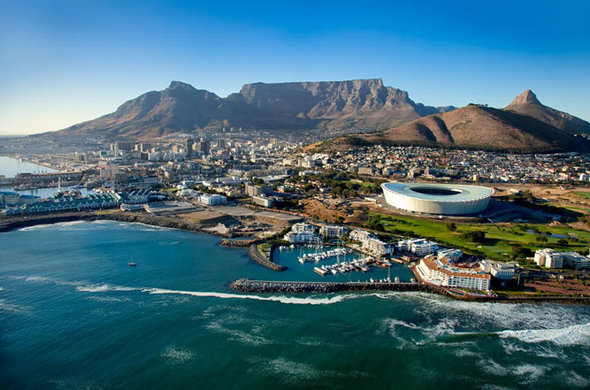 There is nowhere quite like Cape Town. It is in Africa, and of Africa, but yet so different.
Perched between the ocean and the mountain and with a National Park as its heart, it's
wild and wonderful
. But it's also the oldest city in our country and it has a cultural heritage spanning more than 300 years.Nowhere else in the country do we have such cultural diversity. Between beautiful
Cape Dutch homesteads
, elegant Georgian townhouses, traditional dancers with painted faces performing in the city streets, the smell of spicy Malay cooking, the taste of a
well-matured wine
and the sound of the snoek horn advertising the wares of fish vendors, this city will fill your senses.The bells of St George's Cathedral alternate with the plaintive tones of the muezzin calling the faithful to prayer. Visitors give a startled jump and Capetonians
calmly glance at their watches
, when the noon gun booms above the city - a relic from the days of sail when sea captains had to check their chronometers.
No-one could get bored in Cape Town. Table Mountain offers some of the best climbing in the world and it's right here in the city. The surfing is fantastic, the diving is cold but good, and you could go mountain biking, try sand-boarding or head out to sea in a kayak - where you may see Seals, Dolphins or Penguins.
A great thing to do on a full moon summer's night is to walk up Lion's Head before dark, watch the sun set on one side and the full moon rise on the other and then walk down in the silvery light.
If all this sounds too adventurous, don't worry. Shopaholics will love Cavendish, Canal Walk or the V&A Waterfront where they'll be spoilt for choice. There is so much live music, so many temporary and permanent art exhibitions, lots of movies, plays and even opera, ballet or symphony concerts that there is absolutely no excuse to stay cooped up in a hotel room.
Most visitors will want to sample some Cape wine and it's possible to visit a different museum every day for a week and, of course, everyone just has to see Robben Island.
Cape Town has something for everyone. As well as catering admirably for the top end of the market with its many excellent quality establishments, it also has
more backpackers hostels
than any other city worldwide. It's also the home of the backpackers special, the Baz Bus.