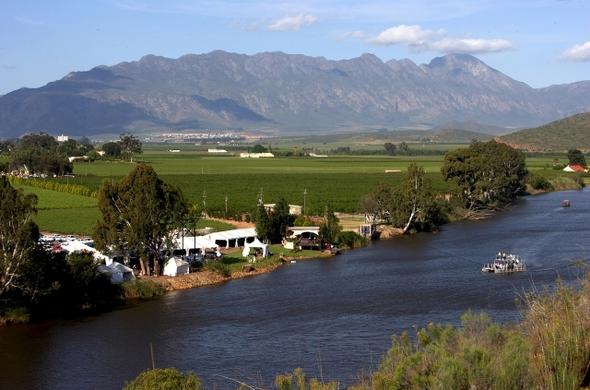 Known as the 'jacaranda capital of the Western Cape', the town of Robertson is situated at the foot of the Langeberg Mountains, in the fertile Breede River Valley.
Founded in 1853, Robertson takes it name from the Reverend Dr William Robertson who gave regular services to the scattered farmers of the valley.
The scenic Robertson Valley is renowned for its wines of connoisseur quality, radiant roses and thoroughbred horses. The town is surrounded by vineyards and orchards that stretch from the outlying farm lands into the very heart of the town.
Visitors who drive through Robertson can admire the stunning Victorian and Georgian houses that line the streets. Among the national monuments that visitors can view is the Pink Church and the Powder House.
Robertson is known as the town for all seasons and has something to offer every adventure lover. Visitors can relax on the Breede River with a fishing rod, canoe, boat or skis.
Visitors looking to sample fantastic wine, should know that Robertson has the ideal conditions for producing it. The warm, low rainfall region is known for its white wines as well as its sherry and brandy. Robertson is also known for its breeding of champion race horses. Quite central to other wine regions, Robertson is only 160km from Cape Town.
Accommodation at Robertson is quite varied and caters for every taste - from luxury lovers to rustic living. The comfort of a room in any of the many Bed and Breakfast establishments, guest houses, self catering chalets or the local hotel, will crown your stay in Robertson.
The Lab Robertson offers high-tech eco-friendly accommodation, fully equipped with the in-house Rosendal Winery, a restaurant and wellness centre and spa for guests who enjoy the finer things in life....
more