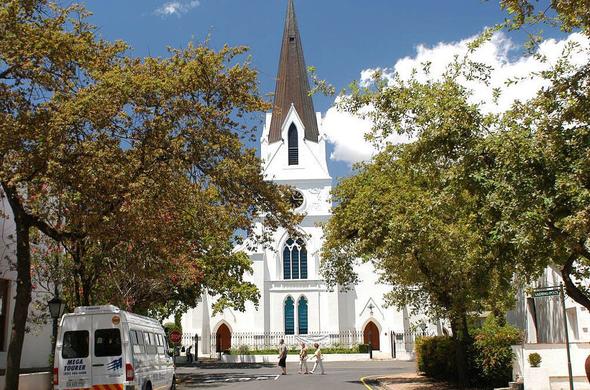 Stellenbosch is the second oldest European settlement in South Africa after Cape Town, and is located in the Western Cape Province. It is situated about 50 kilometers from Cape Town.
The town was founded in 1679 by the Governor of the Cape Colony, Simon van der Stel, who named it after himself. It is situated on the banks of the Eerste River.
The town grew so fast that it became an independent local authority in 1682 and the seat of a magistrate with jurisdiction over 25 000 square kilometres in 1685. Stellenbosch is, if not geographically then spiritually, the heart of the Winelands.
he town is well known for its lovely old buildings, oak trees and water-furrows lining the quiete streets.
Soon after the first settlers arrived, especially the French Huguenots, grapes were planted in the fertile valleys around Stellenbosch and soon it became the centre of the South African wine industry. The Stellenbosch, Paarl and Franschoek valleys form the Cape Winelands, the largest of the two main wine growning regions in South Africa.
The South African wine industry produces about 10 million hectolitres of wine annually. Stellenbosch is the primary location for viticulture and viticulture research. The Stellenbosch wine route, established in 1971 is world renowned and a common tourist destination.
Enjoy a long day's wine tasting, and wine buying and you'll sip more than our great South African wines in the process.
A wide variety of accommodation is available to guests who wish to spend a little more time than just passing tourists in winelands. This ranges from backpackers lodgings to bed & breakfast establishments, guests farms, luxurious lodges and country inns.
As far as eating establishments go whether your choice is a pub lunch, traditional Cape fare or traditional European cooking, you can find it here. Restaurants are often housed in historic buildings and warmed in winter by cosy fires. The wine farms offer a variety of meals.