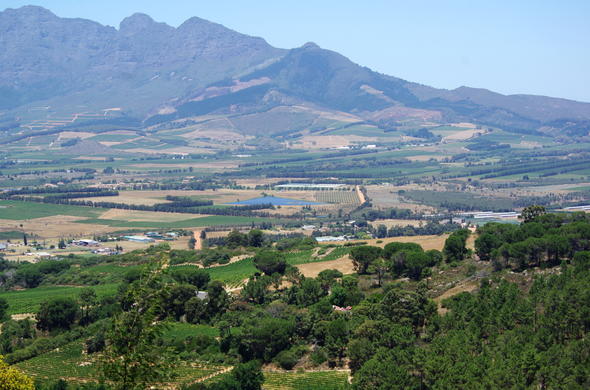 Paarl, which means 'pearl' in Afrikaans is one of the better known towns of the Winelands. The town is named after the enormous granite pluton behind the town as, after rain, it gleams like a giant pearl. The main attraction here is wine and there are many wineries to choose from.
Paarl is the home to many award-winning wines and to the KWV: the
largest exporter of local wines
, famous for the acoustical Cathedral Cellar and the five largest vats in the world under one roof.
Nederburg hosts the Nederburg Wine Auction in April, whilst the Nouveau Wine Festival on Paarl Mountain is hosted by the Paarl Vintners - a group of 30 wine farmers in the district who have formed an impressive organisation to improve quality and marketing of Paarl wines.
Paarl boasts two brandy producers: Paarl Rock Brandy Cellar and Backsberg, who have been incorporated on the Brandy route.
Those who want to do the wine route slightly differently could do a horseback wine tasting trip or, if that's a bit too adventurous, travel through the vineyards in a horse-drawn wagon,
tasting all the way, of course
. Paarl is just off the N1 about 50km north-east of Cape Town.