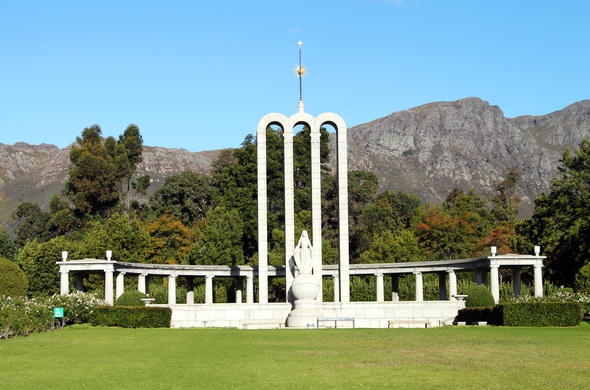 Nestled between towering mountains in the beautiful Cape winelands lies the picturesque town of Franschhoek.
This is where splendid wines are grown and top
chefs create international cuisine
. Explore this lovely town and take in the beautiful sights.As the name suggests, this
lovely country town
has not a little of the French about it. It was here that the Huguenots, who fled to South Africa to escape religious persecution in France in the late 17th Century, settled.French is no longer spoken in this Gallic little corner of Africa and the Huguenots became so
integrated with the local communities
that many contemporary South Africans consider names like Marais, du Toit and Joubert to be Afrikaans names.However, the French influence is still very much around and, in July, the town
celebrates Bastille Day with a fervour
matched only in Paris - if at all. The wine is superb, with about 20 wineries all vying with each other to make the very best.The wonderful spectrum of accommodation for visitors range from internationally renowned guest houses to self-catering cottages on wine farms. In Franschhoek you will find wonderful crafts, art and antique shops and galleries. The
main streets are lined with coffee shops
and restaurants. Did you know that 8 of South Africa's 'Top 100' restaurants are in Franschhoek also known as the
gourmet capital of the country
. Leading chefs create everything from world-class cuisine to light meals using the freshest produce of the valley.Driving into Franschhoek you will notice that most of the farms still bear their original French names and are usually complete with a spectacular Cape Dutch homestead,
towering oaks and luscious vineyards
.There are
a variety of wine cellars
in Franschhoek, from small wineries that cater for those in search of something unique, and large cellars that offer organized tours and conducted tastings.For the more adventurous, there are some wonderful paragliding launch sites just above the town and in the nearby pine plantations, some fantastic
mountain bike trails
.The
roads here are a good network
, offering many choices of route but the R45 continues through Franschhoek to rejoin the N2, passing through some lovely towns on the way. Franschhoek is just over an hour's drive from Cape Town, 22km from Stellenbosch and is reached by following the R310 and then the R45.