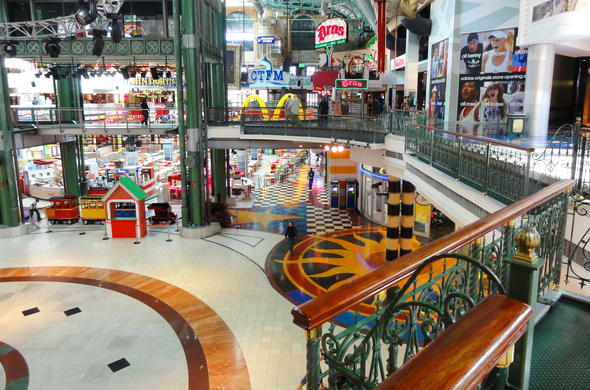 With a flavourable exchange rate, great prices and world class malls and shopping venues, Cape Town is the ultimate place for some retail therapy. Shop till you drop in one of the modern and sophisticated malls, or, for a more down to earth experience, open air markets and curio shops selling specialized local products.
Most malls offer safe, pay per hour parking. Cape Town shopping centres is usually open from 9am-5pm on Mondays to Saturdays, and from 10am-1pm on Sundays. The Waterfront and Canal Walk are open much later, with Canal Walk open from 9am-9pm every day. Movie theatres and restaurants stay open later.
Victoria and Alfred Waterfront
The popular V&A Waterfront is a tourist hub, and one of the most visited tourist destinations in Cape Town. With the magnificent Table Mountain and the harbour as the backdrop, shop in complete style in the myriad of world class boutiques, shops, curio shops and craft markets, not to mention a wide variety of restaurants, fast food outlets, cafes and coffee shops and theatres.
The V&A Waterfront is beautifully set between two of Cape Town's top attractions, Table Mountain and Robben Island, where shopping and entertainment is combined with sophisticated office locations, world class hotels and luxury apartments.
Canal Walk Shopping Centre
Canal Walk is the largest Cape Town shopping centre in the Western Cape, and home to over 400 specialty stores, more than 30 restaurants, cafes and coffee shops, and 17 Nu Metro cinemas, including the luxury Cinema Prive complex. Canal Walk also hosts the MTN Sciencentre, a world class interactive science centre with more than 280 exhibits.
Cavendish Square
This award winning Cape Town shopping centre is situated in the heart of Claremont, an affluent suburb of Cape Town, and one of the main entertainment and commercial centres of the southern suburbs. Here you shop in a stylish, safe and trolley free environment, while your car is being protected in undercover parking bays.
Leading international retail stores include Levi's, Timbaland, Aca Joe, Billabong, Diesel, Guess and the Body Shop, and well as local department stores such as Woolworths, Identity and Mr. Price.
Local designers making a name for themselves at exclusive boutiques in Cavendish include Jenni Button, Young Designers Emporium (YDE), Hilton Weiner and Gavin Rajah. Cavendish is also home to many restaurants, cafes, fast food outlets and coffee shops, as well as 16 state of the art cinemas and a skate park.
Tyger Valley Shopping Centre
The Tyger Valley Shopping Centre is a great Cape Town shopping mall with an international atmosphere. It is dynamic and exciting, and the ultimate lifestyle and entertainment venue for the whole family. It is situated just off the N1, twelve minutes drive from the city centre. It is located in the vibrant and fast growing business district of Tyger Valley, and offers a stylish, laid back, and world class shopping experience.
It consists of 275 shops, as well as a banking mall, bureau de change, medical and dental facilities, and a cinema complex including 10 cinemas. Children are also taken care of with baby changing facilities, and disabled shoppers are catered for with specially designed toilets. There are over 5 000 parking bays, and guests can choose from paid for undercover parking, or free outdoor parking.
Gardens Shopping Centre
The Gardens Shopping Centre is situated in Cape Town's City Bowl, and the most popular Cape Town shopping centre in the area. In it conveniently located close to the Central Business District in Cape Town, and buzzes with life on a daily basis.
Gardens Centre offers a unique variety of shops, boutiques and restaurants, including Raith Gourmet, the only authentic German deli in Cape Town, as well as specialty shops like Le Papier du Port, Party Tricks and Health for Life.
Gardens Centre boasts 86 stores, including a tobacconist, a chocolateur, bookshops, homeware and decor stores, footwear, accessories, designer boutiques, imported brands, and jewellery shops. Facilities include dry cleaning, tailors, cell phone shops, business solutions, forex bureau, travel and flight booking agents and numerous major banks.
Professional services include an optometrist, general practitioner, pharmacy, dentist, attorney, beautician and hairdressers.
Somerset Mall
Somerset Mall is a great, all round family shopping experience, and houses a magnificent 206 stores. Offering fun in a safe, family orientated environment, browse the shops and boutiques, followed by a delicious meal at one of the many restaurants, coffee shops and fast food outlets.
Somerset Mall is the third biggest mall in the Western Cape, boasting a double climbing wall with views of the Helderberg Mountains, an international food court for a quick lunch, an 8 screen movie complex, 10 pin bowling, an exciting games arcade and various music and book stores.
Somerset Mall is situated just 30 minutes from the centre of Cape Town, and within close proximity to the famous Cape Winelands. Enjoy sophisticated yet relaxed shopping in all of South Africa's major retail and department stores, not to mention top class boutiques and specialty stores.
Guests can also enjoy ample free open air parking, paid for undercover parking, 24 hour security, well maintained bathrooms, free strollers for baby, baby changing facilities, wheelchairs, and disabled persons facilities.
Cape Quarter
Cape Quarter is situated in the trendy Green Point, and is a hub of activity. Guests interested in home decor, art and artefacts, fashion, beauty, health and lifestyle will be spoilt for choice at Cape Quarter. Enjoy a great ambience as you browse the shops, stopping for a light lunch or a cup of coffee.
Cape Quarter is conveniently situated close to the Central Business District and the world famous V&A Waterfront. It is also easily accessible to many of Cape Town's most popular beaches and hotels. Cape Quarter offers secure onsite parking, totally protected by security and CCTV surveillance.
Blue Route Mall
Blue Route Mall is ideally located in Tokai, Cape Town, one of the most scenic areas of the province, and the gateway to the spectacular Constantia wine route.
It is located just 20 kilometres from the city centre, and 10 minutes from Claremont. Nestled between the luscious suburbs of Kirstenhof and Tokai, Blue Route Mall offers a wide variety of great stores, including fashion boutiques, grocery shops, jewellery stores, a cinema complex and many restaurants.
Greenmarket Square
A visit to Cape Town will not be complete without visiting one of the city's oldest markets, a melting pot of culture, traditions and the unique heritage of South Africa.
Gently set on a cobbled square between Long and Short Market Streets, this is a great place to purchase clothing, jewellery, sandals, art and crafts, and wonderful curios at reduced prices, with the option to haggle.
African art and curios dominate this charming market, but there is still a strong influence on the cultural heritage of Cape Town and South Africa.
This open air market is a true testament of the vibrancy and culture of South Africa, and offers a range of restaurants and coffee shops lining the street, a great place to relax after shopping in the sun.
Green Point Market
This vibrant market is held every Sunday just outside the Green Point Stadium and is a worthwhile visit. Selling a myriad of traditional African arts and crafts while entertaining crowds with music, this market is alive with energy and definitely a must do.
St George's Mall
St George's Mall is an open air mall situated in the heart of the CBD, and runs right next to the bustling Adderley Street, with its many shops, flower sellers, boerewors stands and little street shops. St George's Mall is lined with coffee shops, restaurants, art galleries, curio shops and even boutiques, providing a great place to shop and eat.
There are also a number of clothing, accessory and jewellery stands running parallel to these housed shops, offering an affordable alternative. St George's Mall is also famed as being the jewellery route of Cape Town, with a number of jewelers based in the mall.
During lunchtime you will hear the noon gun blasting through the Cape, and you will find security and police riding through the mall on horseback. You can also enjoy traditional dancers performing in the street to an impressed audience.