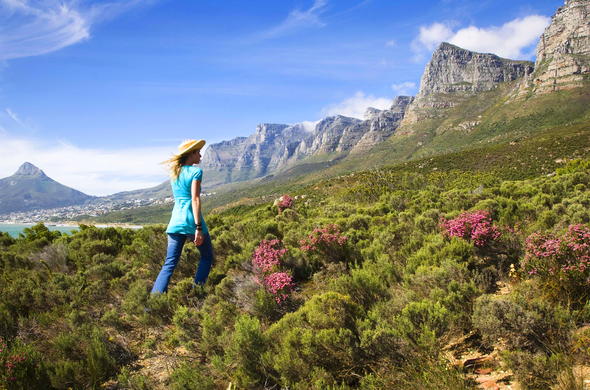 Hiking in Cape Town is one of the most preferred activities. Cape Town is not only the city where you will find Table Mountain, the Twelve Apostles, Signal Hill and Lions Head, but there are a range of many hiking trails, walking paths and invigorating mountain activities.
Coursing through the cracks of Table Mountain, there are lovely streams and dams. For the not so fit, there are paths, trails and short walks. For the adrenaline and adventure junkie there are many rock faces to overcome, challenging kloofs, long hikes which could go on for a few hours or a few days and so much more.
In the surrounding Cape Town area, there are many forest areas to visit, such as Hout bay and Kirstenbosch. Constantia, Rhodes Memorial and Camps Bay Forest to mention a few are all of the places which hikers and climbers can enjoy. Just an hour outside of Cape Town, there is the world famous Otters Trail, various mountain ranges and many hiking areas.
One thing to always remember is that Cape Town experiences good weather, but can also be very cool in the mornings. When hiking or climbing short distances it is ideal that one is equipped with comfortable shoes, water, food and a jacket to fend from the fresh morning cold.
Longer hikes, spanning a few days require backpacks, strong hiking boots, supplies and safety telephone numbers if you get lost. Always remember that for safety purposes, no matter how short or long the hike is you should have a guide or walk as a minimum of 4 people.
All in all, Cape Town and the surrounding areas are still the best for hiking, climbing and activities of the like. And after a long day of hiking, there is nothing better than a dip in one of the dams or the beautiful ocean at one of the nearby sunny beaches.
Hiking Activities
Table Mountain Hike
Abseiling
Kloofing
Rock Climbing
Hiking and Walking
Trail Running
Walking Trails
Overnight and weekend trail tours