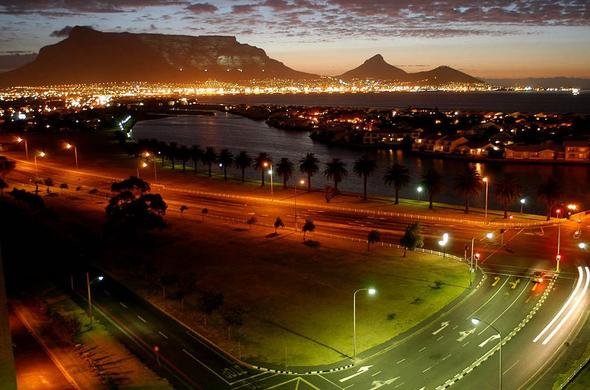 Cape Town turns into a whole new world once the sun has set. The stores are closed, the business people have gone home, and the trendy, youthful set emerges as Cape Town turns into a party city.
From upmarket bars, to laid back restaurants and funky clubs, Cape Town nightlife is alive with activity as the night owls of the city awaken. Dressed to kill, the trendy set enjoys partying at the various hotspots in Cape Town, the main areas of activity being in the CBD, Claremont Main Road, Camps Bay and Observatory.
Bars and clubs are usually open till very late, and start picking up only around 11pm. Restaurants are usually open until midnight, or even later depending on how busy it is. There are also various all night fast food outlets scattered throughout the city, ideal for hungry partygoers returning from an exciting night out.
For more glitz and glamour, many hotels like the Mount Nelson boast cocktail bars and restaurants that are open to the public, and Grand West Casino is a great place for some gambling, fine dining and partying.
Bars
A great way to experience Cape Town nightlife is a enjoy a drink at one of the many bars scattered throughout the city. Bars line the streets of trendy Green Point, Camps Bay and Observatory. Sip cocktails with the elite as the sun sets in Camps Bay, enjoy and after swim sundowner in Clifton, or enjoy refreshing cold ones after a long days work in Claremont.
With an array of local and international drinks, as well as DJ's, the Cape Town bar scene is the place to be and the ultimate gathering spot before a night out on the town.
Clubs
Whether you are looking for soulful jazz, deep house, dance, R&B, and Hip Hop, Cape Town has the club to suit your tastes during an exciting Cape Town nightlife experience. Long Street in the CBD is well known for its numerous clubs, including the popular Cool Runnings, Marvel and Joburg's, with Green Point housing Opium, a popular cigar bar, whiskey lounge and dance club.
Gay partygoers are also catered for, including the well known Bronx, Angel and Detour. The city centre is the main location for clubbing, with super trendy and ultra cool spots including the upmarket Hemisphere, Rhodes House and the Ivory Room.
Observatory is a hotspot for hippie, student life with laid back venues including the Jamaican theme Cool Runnings and the Rolling Stone pool hall, and Claremont Main Road is great for laid back partying, salsa dancing and an ambient atmosphere.
Restaurants
Scattered all over the province, from casual eateries to upmarket venues, Cape Town has a restaurant to suit all palates.
Restaurants are usually open till late, and some even cater for the after party crowd is search of a meal before heading home. Many restaurants are located in close proximity to shops, clubs and bars, providing a great stop before and after the sun sets.