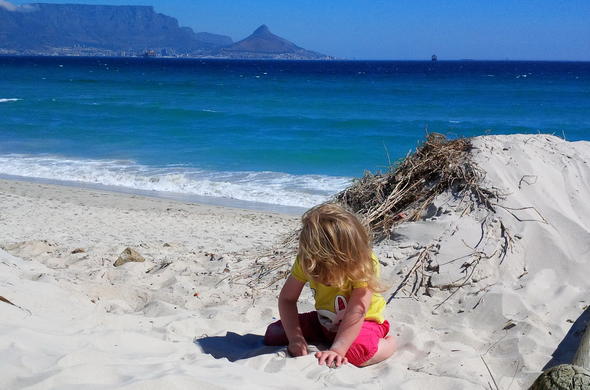 Cape Town is home to some of the most beautiful beaches in the world, and has a beach for everyone, from surfers and water sport enthusiasts, to families and bathers, not to mention the trendy set of Cape Town.
Atlantic Coast Beaches
The west side of the Cape Peninsula has a very distinctive style of beach, as these are the beaches to see and be seen. Mingle with the fashionable and trendy set on the Cape Town beaches along the Atlantic Seaboard, also known as the 'Riviera' of Cape Town.
This coast stretches from the V&A Waterfront on the north Shore of Table Mountain, up as far as Hout Bay, and is connected by one of the most beautiful, scenic drives along Victoria Road.
The beaches along the Atlantic Seaboard enjoy longer sunshine, spectacular sunsets, and less wind from the infamous 'Cape Doctor', Cape Town's tempestuous south easterly, compared to the beaches of False Bay.
It is said that the waters of the Atlantic Ocean are about 3 or 4 degrees colder than the Indian Ocean, but this does not deter sun worshippers looking for the ultimate beach experience, complete with white sand, sun kissed waters and blue skies.
North of the Atlantic Seaboard are the beaches of Table Bay. These beaches boast beautiful postcard views of Cape Town over Table Mountain and Robben Island. These beaches tend to be more popular with the locals, particularly kite surfers and families.
Beyond Hout Bay, the beaches of Noordhoek and Scarborough are less frequented but equally beautiful. These are beaches locals gravitate to, to get away from the crowds of Camps Bay and Muizenburg.
Table Bay Beaches
These beaches include Blouberg's Big Bay and Little Bay, Table View, Dolphin and Milnerton. These beaches are great for surfing, wind surfing, kite surfing, swimming, kite flying, paddle skiing, rock pools and walking. This beach also offers the classic and world renowned view of Table Mountain.
These Cape Town beaches can get very windy, which can be unpleasant, but this should not stop you from enjoying the true beauty of these beaches, complete with magnificent views of Table Mountain and Robben Island, and miles of pristine white sand. Kite surfers will keep you highly entertained with their antics between dips in the ocean and enjoying the sun.
Big Bay boasts some lovely rock pools and beautiful views of the bay and Table Mountain, while Dolphin Beach is synonymous with kite surfing. Milnerton Beach is well known for its light house and great swimming conditions, and is guarded by well trained life guards. The area is also littered with numerous beach cafes and restaurants.
Atlantic Seaboard Beaches
These beaches include Mouille Point, Sea Point, Three Anchor Bay, Clifton, Camps Bay, Bakoven, Llandudno, Sandy Bay and Hout Bay. These beaches are populated by the trendy set, parading in tiny swim suits and designer sunglasses, but still offer spectacular natural beauty and little wind.
These beaches are famous for surfing, swimming, tanning, volley ball and sundowners. These beaches are also notoriously colder than its False Bay counterparts.
These Cape Town beaches are better known for the promenade that stretches along all three beaches, as they have no actual beach to speak of, more ocean front, scattered with jagged rocks, broken shells and seaweed. Saunders at Sea Point does have a small tidal pool, and Three Anchor Bay has a tiny little beach.
The promenade is alive with locals and tourists alike, and is great for joggers, walkers, dog walkers, roller skaters and families. Large, well manicured parks are a great place to relax with your family, have a picnic and play some soccer and frisbee.
Clifton is a popular hangout for the jet setting crowd, both international and local. Here you rub shoulders with the beautiful people of Cape Town, from models to film stars.
Clifton is divided into four beaches, called 1st, 2nd, 3rd and 4th beach. Fourth beach boasts a blue flag status. These are Cape Town's premier beaches, is separated by granite boulders. Summer is packed with locals and tourists, each vying for their share of the sun
Camps Bay is situated just up the road from Clifton. This beach is a very popular haunt, and offers a long sandy beach lined with palm trees, as well as a great promenade dotted with restaurants, cafes and cocktail bars. This is where the fashionable set mingles after a day spent on Clifton, enjoying sundowners as the sun sets over the horizon.
Close to Camps Bay is Glen Beach, a very small and charming beach situated in a little enclave and great for surfing. Maiden's Cove is a wonderful family beach, situated just in front of the Glen Country Club. Bakoven is a beach small in stature, but large in natural beauty - massive boulders, white sands and gorgeous views.
Llandudno is situated in one of the most exclusive suburbs of the Western Cape, as is also one of the most beautiful beaches in Cape Town. This beach is not ideal for swimming as the surf is strong, but great for serene sunsets and surfing.
Sandy Bay is the unofficial nudist beach of Cape Town, and is quite difficult to get to, being one of Cape Town's most inaccessible beaches. This area is not only popular with nudist, but also with hikers and conservationists, due to its unspoilt natural beauty.
Sandy Bay is packed with steep dunes and bushy slopes and is not as busy as other beaches, quite possibly because of its inaccessibility. This is a great place to get away from the crowds and simply relax in the company of the ocean.
Hout Bay is a great family beach, where fish and chips, seal sightings and spectacular views go hand in hand. It is a protected harbour bay surrounded by mountains and enjoying views over the Hottentots Holland Mountains.
The Chapman's Peak side is ideal for swimming and sun bathing, as the waves are more gently. Spend the day strolling along the pier and watching the fishing boats at the harbour, with the added bonus of spotting a seal or even a Whale during season.
Beaches South of the Atlantic Seaboard
These Cape Town beaches include Noordhoek Beach, Long Beach, Witsands, Misty Cliffs and Scarborough, and is ideal for walking, horse riding, surfing, and natural beauty. These beaches are also less busy than Clifton and Camps Bay, and a wonderful way to escape the crowd. During the summer time, however, it can get very busy.
Noordhoek Beach is situated at the end of the spectacular Chapman's Peak drive, just south of Hout Bay. This is a beach of long white sand, ideal for walks and horse riding, as well as surfing. The dunes that line the beach offer great protection from the infamous south easterly.
Long Beach is long and sandy and a popular spot for local surfers. There is also a large tidal pool for swimming, making this a nice family beach. Witsands is situated between Kommetjie and Scarborough, and is popular with surfers, kite surfers and windsurfers. It is situated further away from Cape Town, therefore not very well known by international standards. The beach is big and sandy, with plenty of dunes and natural beauty.
Misty Cliffs is a remote beach boasting magical views of the Atlantic. Waves are big and bold, so this beach is not ideal for swimming, and even surfers are careful. It is quite popular with divers. Scarborough is the last residential suburb before Cape Point.
This beach is large, with white sand. It is ideal for sunbathing and surfing. it is hardly ever crowded, except maybe sometimes in summer. It is also great for flying kites and kite surfing, as it can get very windy here.
Indian Ocean/False Bay Coast Beaches
These Cape Town beaches are generally more laid back and relaxing than its Atlantic Ocean counterparts, and do not get quite as busy, except during the height of summer. These are more family orientated beaches, and can get jam packed during holiday periods, especially during the Christmas season. These beaches are most popular with locals, especially those staying in the southern suburbs.
False Bay is a huge arc, curving from the Helderberg beaches on the east side of the bay, to Cape Point on the west side. These beaches are generally 3 to 4 degrees warmer than the Atlantic Coast beaches, and are great for swimming and family outings. Most of these beaches are manned by life guards.
Helderberg Beaches
These beaches include Gordon's Bay, Strand, Bikini Beach and Kogel Bay and are ideal for families, swimming, sunbathing, walking, surfing, paddling and fishing.
Bikini Beach is a small beach, and one of Cape Town's three blue flag beaches. The blue flag status signifies a high level of water quality, facilities, cleanliness and safety. This beach is great for sunbathing and does not experience much wind.
Kogel Bay is great for surfers, and has a long stretch of white sand and exciting caves to explore. The Strand is a well known family beach, with kilometres of white sand. The beach offers great conditions for surfing, fishing and long walks. There is also an Olympic, centrally heated swimming pool situated close by.
Gordon's Bay is regarded as one of the safest beaches for swimming, and offers a wonderful family experience. There is lovely rock pools, which kids can enjoy exploring and paddling in.
False Bay Beaches
These Cape Town beaches include Muizenburg, St James, Kalk Bay, Fish Hoek, Glencairn, Boulders, Smitwinkelbaai and Diaz Beach. These beautiful beaches are ideal for family outings, swimming, sunbathing, walking, surfing and paddling.
Muizenburg is a popular family beach, and one of the most racially diverse beaches in Cape Town. Well known for its colourful huts that line the shore, this beach can get very busy during the holiday season.
There are also facilities in the area, including water slides and a putt putt course. Surf shops, cafes and cocktail bars line the streets, and a wonderful fleamarket on weekends is a great place to spend a Sunday morning.
St James is a rather small beach, but offers a wonderful tidal pool ideal for children. This beach is quite small and can get crowded in summer. Danger Bay is situated nearby, but don't let the name scare you off. It is much quieter than St James and is mainly populated by local residents.
Kalk Bay is a charming little fishing village, and home to the famous surf spot named 'Kalk Bay Reef'.
Fish Hoek is a popular family beach, with calm waters and white sands, and plenty of space for swimming, games, walking and exploring. This is also good for spotting Whale in season, which makes an appearance right in the bay. Clovelly is situated in the far left of the beach and is a haunt for young surfers.
Glencairn Beach is ideal for swimming and sunbathing, and even for spotting Great Whites. But do not despair, the waters are still completely safe and if there are sharks in the area, you will be made aware of them.
Boulders Beach is situated just past Simons Town, and is famous for its population of endearing African Penguin, who has decided to make this beach their home.
Boulders is a paying beach and one of the best swimming beaches in Cape Town. It is set in a small cove and protected from the notorious 'Cape Doctor' by giant boulders, hence the name. A boardwalk past the beach leads you to the penguin colony, although sometimes they do hobble on over to visit you around the boulders.
Further on you will come across Smitwinkelbaai, Windmill Beach, Froggy Pond and Miller's Point. Smitwinkelbaai is virtually inaccessible and is situated right next to the Cape Point Nature Reserve.
It can only be reached by foot, but is quite rewarding once you get up there. The bay is popular for snorkelling, diving and fishing, with calm waters ideal for swimming. The views are also breathtaking, overlooking False Bay.
Cape Point Nature Reserve Beaches
The beautiful beaches of Cape Point Nature Reserve are well worth visiting. Diaz Beach is remote and secluded, ideal for some privacy away from the crowds. Buffelsbaai offers a safe tidal pool, while Platboom and Olifantsbos are more popular. A few small and peaceful beaches and miles of sand stretches are also in the area.
North Shore of False Bay Beaches
These Cape Town beaches include Macassar, Monwabisi, Mnandi and Strandfontein. These beaches are popular for fishing, swimming, surfing and the natural Fynbos. En route you will enjoy wonderful views of the Helderberg and Hottentots Holland mountain ranges, and pass Wolfgat Nature Reserve, home to strandveld and dwarf coastal Fynbos.
These beaches are rather wild, and include the blue flag beach Mnandi. These beaches are exposed to rough waters and winds, and should be avoided due to safety reasons, natural and otherwise. It is mainly frequented by local fishermen and residents of the nearby areas of Khayelitsha, Macassar, Philippi, Tafelsig, Gugulethu, Langa, Nyanga and Strandfontein.