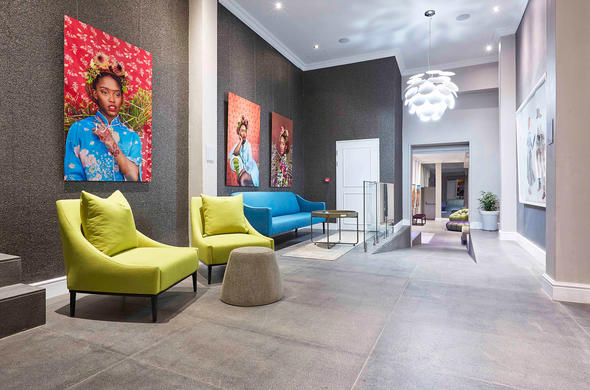 Cloud Nine Boutique Hotel (formerly known as Leeuwenvoet) is located on the foot of the glorious Table Mountain in one of Cape Town's classy suburbs, Tamboerskloof.
Located in the foot of Table Mountain
Accommodation is in 12 bedrooms
The popular V&A Waterfront is only a five-minute drive
Guests can go on a scenic drive to the Winelands
Cloud Nine Boutique Hotel is located on one of the most beautiful cities Africa knows, Cape Town, South Africa. Cloud Nine Boutique Hotel is a lovingly restored Cape Victorian home, which was built in 1892. The original house offers a fine example of the architecture of the period and has beautiful pressed steel ceilings and Oregon pine floors and doors.
The site of this Cape Town guest house marks the original position of the farmhouse of Leeuwenvoet farm. (Leeuwenvoet means 'the foot of the Lion' and is pronounced in English approximately as 'loo-en-foot'). Your hosts, Helena and Rod MacPhail, and Conrad and Irene will do their utmost to make your stay as pleasurable as possible.
Cloud Nine Boutique Hotel is just a 12-minute walk from central Cape Town, about 5-minutes from the Company Botanical Gardens and adjacent to trendy Kloof Street, the fashionable restaurant district of Cape Town. The V&A Waterfront is only a few minutes away.
This Cape Town guest house has become popular over the years for its sumptuous breakfast that has become a well-known tradition throughout the world. It's a feast consisting of a platter of varied seasonal fresh fruit, croissants, bread rolls, toast, muffins, fruit juices, cereals, yoghurt, cheese and cold meats.
A freshly cooked English breakfast comprising of bacon, eggs, sausage, mushrooms, tomatoes and fried potatoes or cooked vegetarian breakfast is also served with freshly brewed coffee and tea. Guests can have their leisurely breakfast at any time between 7:15am and 10:30am.
A scenic 90-minute drive will take you to the Good Hope Nature Reserve and Cape Point. During this scenic journey, you will visit the fishing village of Hout Bay and the old Naval station at Simon's Town. Guests can also swim with the African Penguins on Boulders Beach. View the Indian and Atlantic Oceans from the lighthouse at Cape Point.